New Book – The Life Science Innovation Roadmap: Getting your ideas to market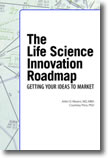 I've just published a new book by Arlen D. Meyers, MD and Courtney Price, Ph.D.
The Life Science Innovation Roadmap: Getting your ideas to market was written as a guide to reignite the commercialization of life science ideas by educating a cadre of bioentrepreneurs who have the knowledge, skills, abilities, experience, and connections to get their ideas to market.
This book is intended for scientists, engineers, physicians, business people, and service providers at all levels who are interested in and support the process of life science commercialization. The authors provide a hands-on template for success based on their years of experience practicing and teaching bioentrepreneurship and consulting to clients, students, economic development agencies, and faculty around the world.
Each of the chapters is richly supplemented with tips, examples and resources that represent core ideas and key principles including lessons learned not only from successful ventures but failures as well. If you find joy and challenge in learning new things, are undaunted by the complexities of commercializing bioscience inventions, and don.t mind working long hours you'll do well as a bioscience entrepreneur. This book will help you navigate the pathway to life science commercial success.
Full details on the book are available on the Logos Press website, and the book is available at Barnes and Noble, Amazon.com, and elsewhere.
---
No Comments yet
---