New features from DrugPatentWatch – Bulk API sources and clinical trials
After months of development and feedback from customers, DrugPatentWatch is proud to announce the availability of two new datasets: Bulk API Sources and Clinical Trials.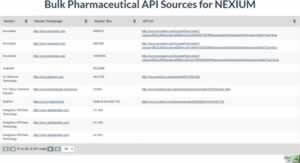 The addition of Bulk API sources complements the existing Suppliers / Packagers dataset. While the Suppliers / Packagers provides information where to source on finished products, the Bulk API Sources lists companies where raw ingredients for generic manufacturing can be obtained. This is of vital importance to generic entrants seeking to enter the market on patent expiration.
Links to Bulk API information are available on the tradename and ingredient pages of all drugs for which API sources are available. You can preview the Bulk API data at https://www.drugpatentwatch.com/p/bulk-api/NEXIUM . This dataset is available with a subscription to the Forecasting Plan.

The Clinical Trials dataset is a core feature of the Forecasting Plan. It provides a broad overview of future therapeutic opportunities for each drug. All international, US-registered, clinical trials are listed, from both a drug's branded manufacturer as well as any other trial sponsor.
Additionally, tested therapeutic conditions are listed, along with trial progress, international participation, and trial sponsors. Collectively, the Clinical Trials dataset enables projection of future therapeutic indications for each drug — from the branded manufacturer or other parties — and opportunities for off-label prescription.
You can preview the Clinical Trials module at  https://www.drugpatentwatch.com/p/clinical-trials/profile/drugname/NEXIUM.
Subscription information is posted at http://www.DrugPatentWatch.com/subscribe.php and you may sign up for a trial at https://www.DrugPatentWatch.com/trial.php .
Questions can be submitted via the contact form at https://www.DrugPatentWatch.com/contact.php .
---
Comments are closed.