Perspectives on the Kyoto Prize
This is my initial response to the Kyoto Prize, which I was able to attend on a fellowship from Point Loma Nazarene University. For more details on the Kyoto Prize see my previous post.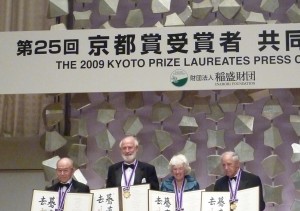 I had an opportunity to interact with each of the laureates, and focused on the question of how it was that they were able to accomplish their exemplary achievements. It is not enough to simply be brilliant or hard-working — all their peers likely share these characteristics. What are the differentiating factors that enabled their unique achievements?
I am still working on an expanded discussion for more formal publication, and I'll link to the article when it is available. However, not to leave you in suspense, I'll note that I was surprised by how well the enabling factors aligned with each laureate's field — technology, basic sciences, and arts and philosophy.
---
No Comments yet
---