Trends in the Asia Pacific Clinical and Contract Research Ecosystem
 This is a Guest Post by Prabhu Ram, General Manager- Healthcare Research & Advisory  

The BioPharma industry faces some daunting challenges today. Faced by the surge in drugs going off-patent and with drying-up of their product pipelines, major pharmaceutical companies are facing an urgent challenge to reinvent their drug discovery and development models. An immediate opportunity for BioPharma is represented by the CRO industry in Asia. Asia represents a region that is now recognized more for its cutting R&D, scientific expertise, large patient population, in addition to the oft-quoted cost advantages.

The CRO industry has come a long way since its modest beginnings, growing strength to strength, while discarding the label of not being innovative tagged on them. The cross-functional, cost-conscious, global expertise of the CROs has now placed them at the centre of the bio ecosystem, and they are playing a pivotal role for resurrecting the global BioPharma industry.

The CROs provide the BioPharma industry with an excellent opportunity to leverage growth with lower R&D spends. As recent events have shown, some BioPharma enterprises consider the CROs as a strategic partner, and this trend is leading to changes in the business model for CROs – from transaction-oriented to strategic partnerships.

It is in this background that CMR conducted a comprehensive survey for BioSpectrum, Asia's leading biotechnology journal and platform for knowledge exchange, in August 2011 to learn more about the trends in the clinical and contract research ecosystem in APAC market.
About the Survey
The survey included a mix of quantitative and qualitative questionnaire, administered through email, and direct telephonic interviews. Our survey respondents came from the following geographies: India, China, Malaysia, Singapore, Taiwan, South Korea, Australia, Ireland, Scotland, and North America.
According to our survey results, the CRO industry in Asia Pacific is expanding rapidly, parallel to the growth in the pharmaceutical sector. Powerhouses like China, India and Korea, as well as smaller markets like Malaysia and Singapore will drive this growth.
The business model will steer towards a collaborative partnership model wherein BioPharma would continue to focus on their core strengths, while leveraging the strengths of CROs. For instance, BioPharma would take the inputs from CROs for evaluating potential risks in the drug development pathway. CROs have vast experience and expertise in designing focused trials that accomplish the set goals for clinical, regulatory, and commercial considerations.
The survey points to radical changes to the business model and strategy for outsourcing firms, and points to an exciting phase of growth ahead. The level of outsourcing is set to increase, and strategic partnerships are likely to overshadow the transactional project-to-project approach that has been the norm.
19 percent of CROs have revenue size of $ 26-50m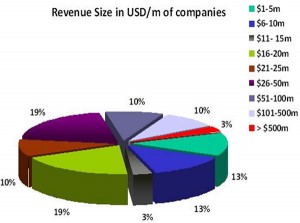 19 percent of the survey respondents of the BioSpectrum-CMR Asia Pacific Survey for Clinical and Contract Research Organizations Survey 2011 indicated that they operate in the revenue band of $26- 50m. An equal percentage of respondents indicated that they operate in the $16-20m band.13 percent of the respondents operate in the revenue band of $ 1-5 m and $6-10 m respectively.
Only 10 percent of the respondents have a revenue size of $ 101-500 m, while another 3 percent has revenue size greater than $ 500m.
CRO Assessment of Market Opportunities
83 percent of the survey respondents indicated that the market opportunities would increase for full-service and niche operators, while 11 percent of respondents opined that the market opportunities would remain the same. Surprisingly, 6 percent felt that the market opportunities would decrease over the next 3 years.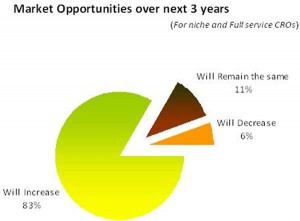 Our survey respondents indicated many different factors for their assessment and confidence in increased market opportunities. Some of the key factors that respondents indicated include: current global economic realities, cost pressures for sponsors, growing regulatory burdens, the daunting challenges in operating in the West, marketplace globalization, significant increase in outsourcing levels. Some of our survey respondents indicated that geographical and market expansion by sponsors is driving the outsourcing trend.
Measuring CRO Performance
The optimism shared by CROs on their assessment of the market and the opportunities therein for their strategic growth leads us to the question on how they measure their own performance. Identifying and implementing metrics can help improve and maximize clinical trial performance. Also, metrics provide sponsors with the key they need to work together to run clinical trials efficiently.
Some of the other highlights of the survey include:
The average contract size for CROs in Asia-Pacific is under $ 50 million. Most of the enterprises operating in the APAC region are small and medium-sized.
The top five therapeutic areas of focus for CROs include Oncology, Cardiovascular diseases, Dermatology, Neurology, and Respiratory.  According to our survey respondents, India and China are the hotspots for patient recruitment and clinical trials.
34 percent of the respondents indicated that the revenue range of the Sponsors is in $101-200m range. Sponsors originate from North America while a majority of the mid and small Sponsors originate from APAC region, and predominantly from India.
According to our survey respondents in the Sponsor category, over the next three years, the outsourcing budget is likely to increase. When assessing a CRO/CMO, the primary and key strategic consideration is quality and reliability. This takes precedence over other critical factors such as pricing, regulatory compliance, and productivity.
 About Prabhu Ram
Prabhu Ram is General Manager-Research and Consulting, and heads the Healthcare Research and Advisory Practice at CyberMedia Research (CMR) at New Delhi, India. Email:[email protected]
CyberMedia Research is a premier research and consulting firm from Asia offering its clients, strategic and tactical insights in the form of market intelligence, market sizing, market ecosystem mapping and go-to-market services. CMR has over 24 years of rich research experience that provides clients with well-informed strategic insights on emerging investment and R&D trends.
CMR offers an integrated suite of market information gathering services from a wide range of sources, advanced information management tools, sophisticated analytical systems and methodologies and dedicated professional client servicing for client advantage. CMR Healthcare Research and Advisory works on the entire value chain from idea generation to commercialization and market delivery
Key Services include:
Market Intelligence
Strategy consulting focusing on growth
Go-to-market services
India-entry Strategies
Web: www.cmrindia.com
To discuss your specific requirement, please write/call Prabhu at [email protected] or call at +91 9899440380.
---
Comments are closed.