Biotechnology in Countries Starting with "I" – Part 13: Israel
This is a guest post from Susan K Finston, President of Finston Consulting. Do you have a response to Susan's post? Respond in the comments section below.
In all candor, I had no long-term intentions in February 2013 when I started this irregular series tracking biotechnology in countries starting with the letter "I."  While touching on topical developments for biotech  in Iceland, Iran, Ireland, and Italy (Part 3 and Part 11), Israel and India figured prominently due to my direct experience.  I first wrote about Israel in February 2013 as the first installment in the series, and have returned to chart ongoing developments (Part 5, Part 8 and Part 12), and India (Part 2, Part 7,  Part 10).  (Along the way, I also posted a separate 2-part series anticipating changes in policy at the start of the first Modi Administration here and here.)  
In retrospect, both Israel and India bear witness to the transformative power of intellectual property (IP) protection for commercial development of biotechnology.  So I thought it would be fun to start off the 2020s by taking stock of just how much has changed for innovative life sciences over the last decade, with this additional installment on Israel (and another in the coming weeks on India).
To recap: I first started tracking Israel's IP regime in 1994 as a Second Secretary at the Economic Section of the US Embassy.  At that time, Teva was Israel's largest private employer and had very definite views on Israel's implementation of the new WTO Agreement on Trade Related Aspects of Intellectual Property Rights (TRIPS).  Suffice it to say, when Teva talked, the Government of Israel listened. Consequently Israel backtracked on early commitments to implement effective marketing exclusivity for pharmaceuticals (TRIPS 39.3 obligations) and also dragged its feet on needed patent law reforms. Throughout my remaining tenure at the State Department, subsequent efforts at PhRMA (Fall 1999 – Summer 2005) and beyond, Israel resisted adopting IP reforms needed to promote investment in commercialization of innovative life sciences.
Recognized as the Start-Up Nation for many years, Israel leveraged excellence in basic science for successful commercialization of military, communications and related technologies, and expected similar success in innovative biopharma. Despite longstanding, generous government support for basic research, effective technology transfer, and broader rule of law culture, however, Israel failed to attract meaningful biotech investment.
At the U.S.-Israel Biotechnology Business Roundtable held on the margins of BIO2010 in Chicago, then Chief Scientist Dr. Eli Opper openly expressed frustration at the absence of global biopharma R&D centers and sought advice on how to improve the enabling environment for biopharma. As noted previously, Israel had focused more on direct subsidies and not on needed legal reforms, and participants in the 2010 breakfast meeting repeatedly raised IP as an important barrier to R&D investment.  Although it took some time for Israel to commit fully to necessary reforms, Israel ultimately passed IP reforms important for biotechnology in 2014.
Israel's implementation of WTO TRIPS data exclusivity and patent reforms provided an important signal to the international innovative industry, precipitating an unprecedented flowering of innovative technologies.  
Highlights include: 
Establishment of global R&D centers by nearly 2 dozen major life sciences companies including Amgen, Boston Scientific, GE, Medtronic, the Merck Group, J&J, and Takeda, among others from a base of zero, and with some having more than one R&D Center in the country;
Early launch of innovative products by global companies (benefiting Israeli patients);

 

Assimilation of new technologies to improve Israeli Healthcare Delivery (e.g., 98% of patients have electronic medical records), and

 

Commercialization of highly innovative healthcare products for the global market.
Whereas Israeli technologies were previously licensed out at early stages due to the inability to fund translational research, Israel's innovative life sciences companies are now well represented across the full innovative life cycle, from Seed through Revenue growth.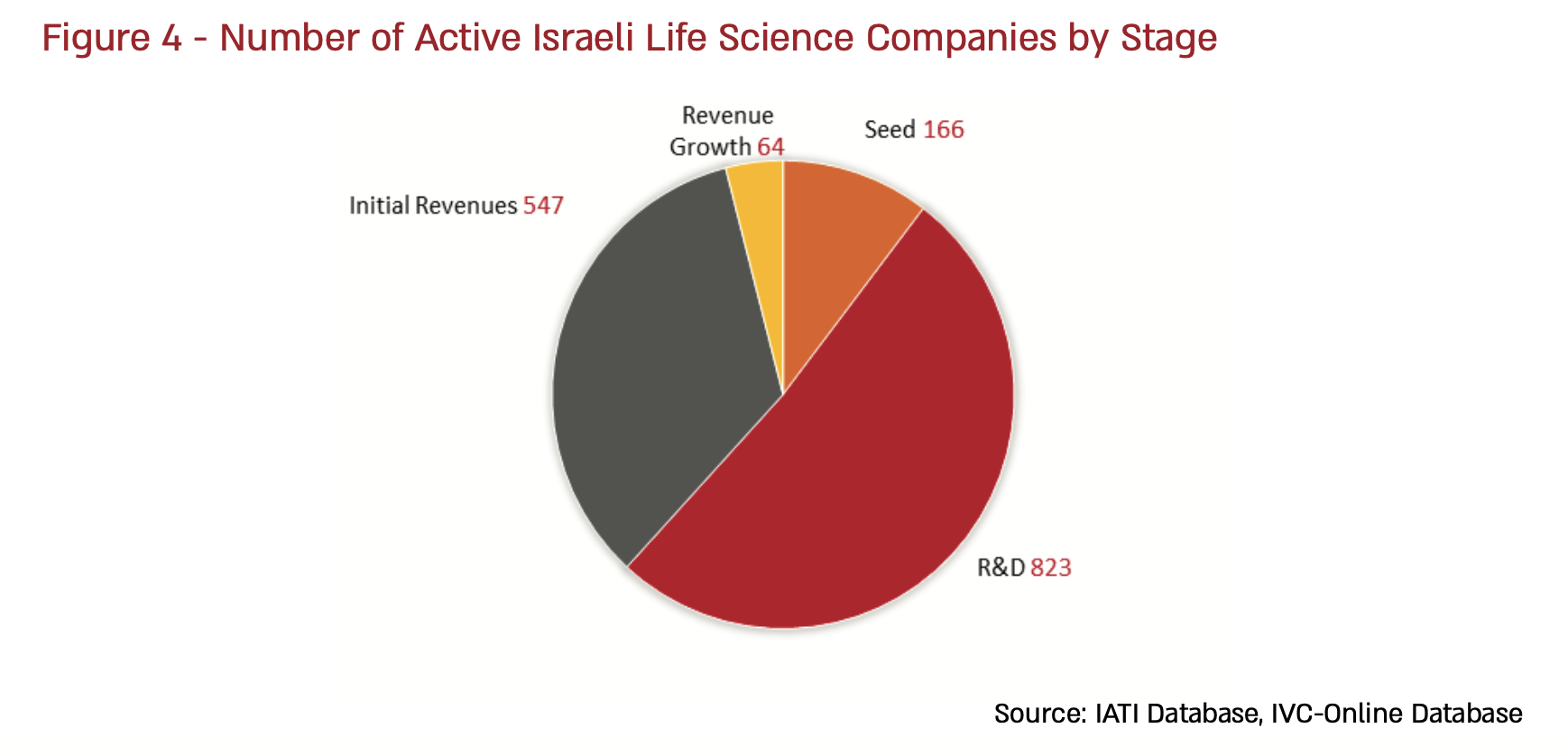 The bottom line:  IATI's Annual Israeli Life Science Industry Report 2019 estimates that approximately 1600 life sciences companies are active in Israel, nearly double the number in existence in 2010.  Israel's biotech companies are now able to attract both domestic and foreign investment across a range of established and emerging areas of technology, including agrobiotech, digital health, medical cannibis, the microbiome therapeutics, women's health, regenerative medicine, and more.   
And in the process Israel has transformed from a poster-child of TRIPS defiance into a real-world demonstration of the critical importance of effective IP for biotechnology commercialization, even in the Start-Up Nation.
What a difference a decade can make. 
About the Author:  
President of Finston Consulting, LLC since 2005, Susan Kling Finston is a micro-multinational working with innovative companies on biotechnology, trade and development issues, and KOL in commercialization of microbiome technologies as practical tool for human health. In 2006 she founded the Washington Embassy Network (WEN), a forum for informal and collegial information sharing around trade, tech transfer, IP and the environment. She is a contributing blogger at 'best of the web' biotechblog.com. She also has served as a cleared advisor to the Commerce Department and the U.S. Trade Representative (IPR, Tariff/Trade Facilitation). Past Experience: Foreign Service Officer, Department of State, with overseas postings including London, Tel Aviv and Manila (1988 – 1999); Motions Clerk, Federal Court of Appeals for the Seventh Circuit, Chicago, Illinois (1986 –1988). She is admitted to practice before the Illinois Bar, the U.S. Court of Appeals for the Seventh Circuit, and the U.S. Supreme Court. Foreign languages are Hebrew and French.
---
Comments are closed.