Biotechnology in Countries Starting with "I" – Part 14: India
Earlier this month, I wrote here about the flowering of Israel's innovative biotechnology sector over the past ten years following adoption of important IP reforms.  Now  I am returning to India, to consider the revolutionary mind shift on the key role of effective intellectual property (IP)  for creation of social and economic value. 
Like Israel's transition from a generic powerhouse into a global innovative biopharma superpower, the transformative changes in India during the 2010's hold great promise for the new decade.
How has Prime Minister Norendra Modi has brought positive changes to Indian IP policy and administration?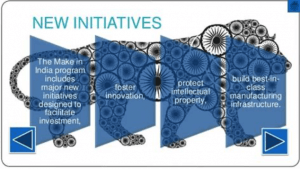 The first major shift in policy occurred in 2016, with the launch of India's 1st National IP Policy including a dedicated office for national implementation (the Cell for IPR Promotion and Management).  IP education and awareness building in India is a very important function that has long been neglected, and without which there can be no expectation of meaningful IP reforms. 
The second area of focus during the first Modi Government was improvement in IP Administration and electronic processes, with measurable gains in terms of reducing patent and trademark application backlogs and overall productivity. Notably, even the U.S. Government acknowledged these improvements:
  "In 2016, the Indian Patent Office (IPO) hired 458 examiners to address the issue of patent and trademark backlog.  In 2017, the Patent Rules and the Trademark Rules were revised, to include strict timelines to dispose of cases and streamline examination.  Special discounts for filing and an expedited examination for start-ups was introduced.  With the hiring of these examiners and these initiatives, the wait-times at the Indian Patent Office were reduced."  
Yet a third important area has been to increased access to IP protection for R&D Intensive Micro Small and Medium Enterprises (MSME) through the Start-Up India and Make in India initiatives.
It is not all sunshine, lollypops and rainbows; for one thing India's Foreign Ministry continues to operate in a time warp, seemingly without cognizance of the Modi Administration's National IP Policy, Start-Up India or other innovation forward goals.  Geneva wallahs continue to act as freebooters in multilateral IP fora, apparently caring more about optics than impact. Perhaps the India's Foreign Ministry will catch up to Delhi on IP policy  during the second Modi Ministry.  
Over time anything is possible and the most unlikely things come to pass. In advance of the first Modi Ministry in 2014, I cautioned that: "Taking into account that we are in an election year (and no one ever got elected anywhere for protecting IP), I would take a 'wait and see' approach." Perhaps in the most surprising development of all, the successful 2019 Modi Campaign did in fact advertise and potentially benefit from the successful IP reforms and advancements–improved patent and trademark administrations, reduced backlogs, expanded access for small enterprise, and increased electronic filings.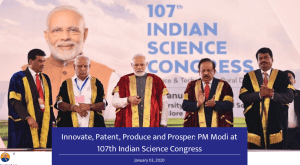 Now Prime Minister Modi is off to a strong start in 2020, with his inaugural address to the India Science Congress with the theme:  Innovate, Patent, Produce and Prosper.  The Prime Minister's personal commitment to effective IP to promote assimilation of innovative new technologies is good for India and for the world.
---
Comments are closed.