Which pharmaceutical companies have the most "New Dosage Form" drugs?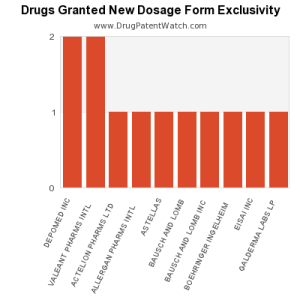 New Dosage Forms are one of the categories for which the FDA grants three years of exclusivity for 'New Clinical Investigations.'
Alternate categories worth of three years of protection include identifying a New Patient Population, New Product, or New Strength.
This chart shows the companies which have received the most New Dosage Form exclusivities in the past five years. The companies with the most New Dosage Forms are:Depomed Inc, Valeant Pharms Intl, Actelion Pharms Ltd,Alexza Pharms, Allergan Pharms Intl, Astellas, Bausch And Lomb, Bausch And Lomb Inc, Boehringer Ingelheim, andEisai Inc.
---
Comments are closed.