Demystifying Microbiome Probiotics (Supplements)
This is a guest post from Susan K Finston, President of Finston Consulting.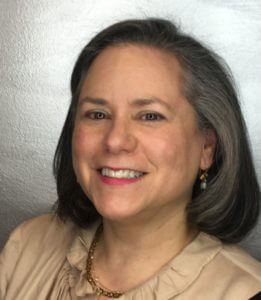 This is the latest entry in an occasional series tracking the microbiome.  I first wrote about the potential of the microbiome for human health in October 2015. 
At that time there was little awareness of the significance and potential of the human microbiome.  Over the last three years I have provided updates including here, here and here.  
With continuing commercialization of microbiome technologies for human health, we are living in a time of medical miracles of wonders.  However all that glitters is not gold. So far, over the counter (OTC) supplements marketed as 'microbiome probiotics" have the greatest market penetration.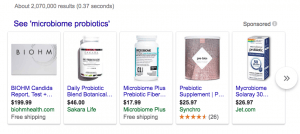 My own Google search for 'microbiome probiotics' (Sep. 2018), yields over 2 millions results.  (My personal favorite in terms of creative naming is a product called mycrobiome™, a probiotic marketed by Soloray.) 
In reality, these diet supplements bear little if any relationship to innovative microbiome discovery or translational research on new and better therapies for a range of medical conditions. OTC probiotics may cite unrelated microbiome research and generally skirt the line of claiming specific health benefits for medical conditions.  
It is important to recall that none of this violates U.S. law.  We live in the 'Wild, Wild West' for supplements, where products are not required to be evaluated by the FDA so long as they do not make specific claims to treat health conditions. 
There is nothing legally wrong with marketing so-called "Microbiome Probiotics"  – there is also no affirmative evidence of safety and efficacy to promote human health.  
In all likelihood they are just expensive placebos.  Recent studies conclude that probiotics fail to provide significant health benefits.  Whether to offset the effects of antibiotics or generally to promote microbial diversity, their impact falls far short of marketing claims.
Based on two human clinical studies, Israeli researchers found that probiotic supplements may be ineffective. These studies found that probiotics may be expelled (excreted) by the body, or may delay regrowth of gut bacteria following antibiotic use.  The studies, published in Cell (6 September 2018), are available here and here.
The bottom line:  I remain a true believer in the disruptive impact of microbiome technologies for human health.  However I am less than convinced that healthcare consumers should rush to buy probiotics, microbiome or otherwise. 
When it comes OTC supplements marketed as Microbiome technologies, Caveat Emptor!
About Susan K. Finston:
President of Finston Consulting LLC since 2005, Susan is a Key Opinion Leader for commercialization of technologies for social & economic benefit, including emerging microbiome technologies, intellectual property (IP) protection, Access and Benefit Sharing (ABS) BD, Tariff & Trade Advice. She co-founded Amrita Therapeutics with biotech pioneer Ananda Chakrabarty, and the American Bio-Industry Alliance with TRIPS architect Jacques Gorlin.  She is a veteran of PhRMA and the U.S, Department of State, and a member of the Illinois State Bar and U.S. Supreme Court Bar.
Do you have a response to Susan's post? Respond in the comments section below.
---
Comments are closed.