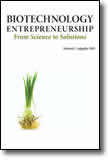 Coming soon, a book by Michael L. Salgaller, PhD. In this new book — Biotechnology Entrepreneurship: From Science to Solutions — Michael combines the voices of a diverse set of industry insiders with extensive experience in biotechnology commercialization to prepares nascent founders, managers, investors, and other biotechnology company stakeholders to position themselves and their companies for commercial success.
Topics covered include:
Why Start a Biotechnology Company?
Company Formation and Organization
Building Your Team
Intellectual Property Protection Strategy
Financing Your Company
Partnering With Industry
Licensing and Technology Transfer
Regulatory Affairs
Roadmap to Reimbursement and Access
Working Toward a Successful Exit
Full details on the book are available on Logos Press' website, and the book is available for pre-order at Barnes and Noble and Amazon.com.
Media outlets interested in a review copy can contact info@logos-press.com.